Although there is nothing wrong with a classic bow or brown paper packages tied up with string, the exterior of your gift can be just as special as the gift itself! Here are some creative ways to wrap your gifts so that everyone will be wondering what's inside. 
DIY Evergreen Sprig Christmas Trees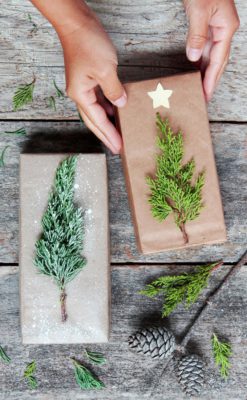 Want to add some texture and dimension to your gift wrapping? Simply cut a piece of an evergreen and attach it to your pre-wrapped gift with either hot glue or ties–as long as it's secure–to create a tiny Christmas Tree! From here, you can decorate the tree as you please. You can use a toothbrush and white paint to create a gentle dusting of snow, or use beads to slide on as mini ornaments!
Custom Made Wrapping Paper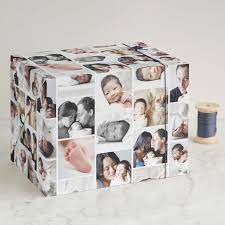 Looking to make your gift wrap extra personal? On websites like Zazzle, you can turn your own photos or images into custom made wrapping paper! Maybe you want to cover someone's gift in prints of your own artwork–or even pictures of their own face for a good laugh! Whether you go the sentimental or the humorous route, your gift is sure to draw eyes when everyone opens presents. 
Wrap It Like Something Not Even Remotely Close!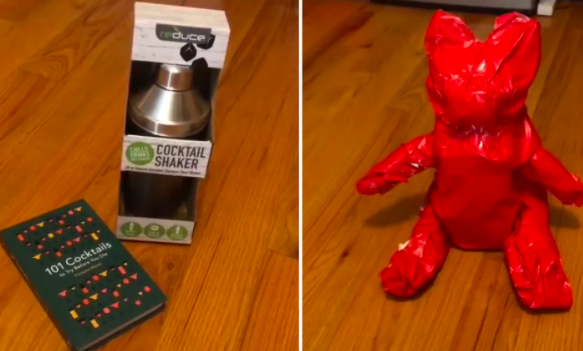 Is the person you're giving the gift to a bit of a jokester? Then you can really fool them with this hilarious way of wrapping a gift to make it look nothing like the gift itself! For example, if you are giving your dad a new cocktail shaker, try wrapping it up as a teddy bear with the help of some extra tissue paper and tape. With a little creativity, the possibilities for this deceiving gift wrap are endless! 
Snowman Made of Stacked Boxes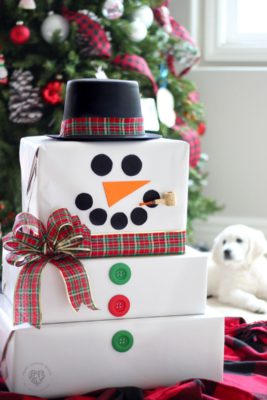 Giving one person multiple gifts or want a fun way to group a family's gifts together? Wrap your gift boxes in white wrapping paper and stack them on top of each other to create a jolly snowman! This gift wrap is not just fun, but will undoubtedly be a centerpiece underneath the tree. This stacked concept isn't limited to a snowman either, as you can find fun ways to make a towering cake or even a sandwich for our foodies!
Interactive Gift Wrap
Although there is nothing greater than watching a child open a present on Christmas, excited children along with the tissue paper and gift wrap flying everywhere can make opening gifts quite hectic. If you want to find a way to keep the kids occupied, kill two birds with one stone by incorporating an interactive element to your gift wrap design! Create a racetrack for a toy car, a drawing to color, or maybe even a DIY Christmas tree with pre-made decorations.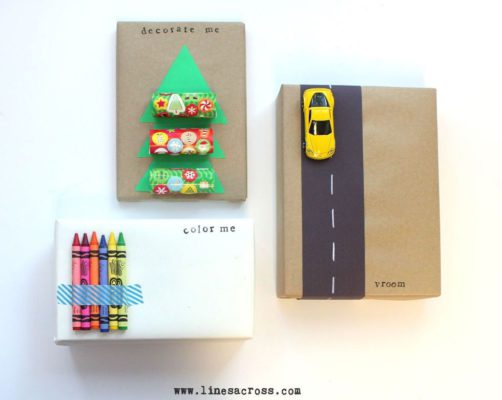 Reduce, Reuse, Recycle
Wrapping paper doesn't have to be expensive to be creative. Finding a way to repurpose things you already have in your home not only adds a sentimental touch but it helps to reduce the large amount of paper that gets thrown away during the holidays. You can use newspaper clippings, crossword puzzles, and even sheet music if your loved one is a musician.